Beim zweiten Saisonrennen der 2. Triathlon Bundesliga Nord ging es für die Herren des Dresdner Spitzen Triathlon Teams in den hohen Norden nach Eutin.
Entgegen der Hitzewelle im heimischen Sachsen mussten wir in Eutin mit 12 °C und Nässe klarkommen, was uns leider nicht gelang. Die fragwürdige Messung von 20,2 °C Wassertemperatur bedeuteten, dass beim Schwimmen kein Kälteschutz erlaubt war, was für viele eine zusätzliche Belastung war.
Auch bei uns im Team lief es nicht wie erhofft. Robert Kuhne wurde auf der kurzen Radrunde von 4 km im Laufe des Radfahrens von der Spitzengruppe eingeholt und musste das Rennen beenden. Andreas Kjaer musste mit einem platten Hinterrad ebenfalls vorzeitig aussteigen. Dadurch erreichten mit Wilfred Hove Lasthein (40.), Max Gaumnitz (70.) und Björn Scheibner (75.) nur 3 Dresdner das Ziel, was den 18. und damit vorletzten Platz in der Tageswertung zur Folge hatte.
Wie es unserem Tagesbesten Wilfred erging, lest ihr in den folgenden Zeilen:
"The race was a sprint distance race so a 750 m swim, 20 km bike, and a 5 km run. The swim start was a deepwater start so everyone was lined up in the water, and when the horn blasted I tried to find some fast feet to follow. I came out of the water about 15 seconds after the first guy, the transition was very long so you had to run like 500 m before you could mount the bike."
"I was in a chase pack about 200 m from the race leaders, we worked together in the group by taking turns at the front and we managed to close the gap within the first two laps. It was hard work to close the gap, but it was worth it because it got a lot easier with the big group. On the bike course, there were two 180-degree turns, which meant that you really had to be positioned well in the front of the group, otherwise you would burn too many matches trying to close the gap after each turn. Most of my turns went well, but two times I had to really work hard to get back in the group."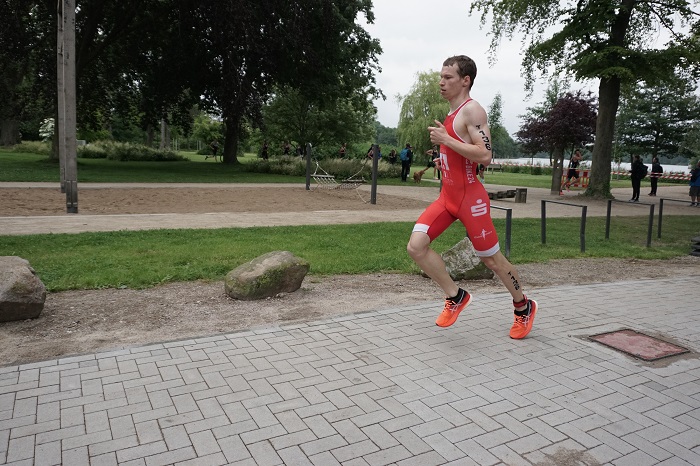 "After 5 laps on the 4 km bike course, it was into the long transition again, some people were sprinting in the transition to try and make up some positions, so you really had to keep the pace high, while running barefoot on the hard surface. The run took place in a small park, where you had to run 6 laps of about 800 m. I was out on the run with the first pack, but the fast runners quickly gained time on me. I just focused on keeping my pace as high as possible, while fast runners were coming by. The finish was by the transition up a small gradient. In the last 400 m, two guys tried to go past me, but I beat them both in the final sprint."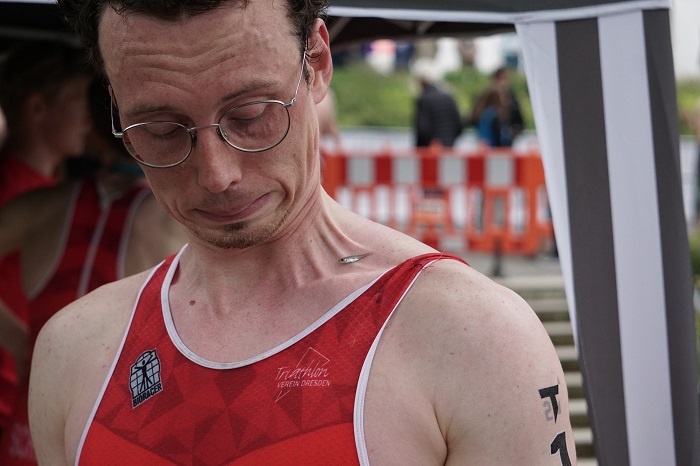 "It was a fun race, but the long transitions and the too long running course made the race in favor of the fast runners. The highlights for me were definitely the fast bike course and the sprint finish. Thanks for having me - best regards Wilfred."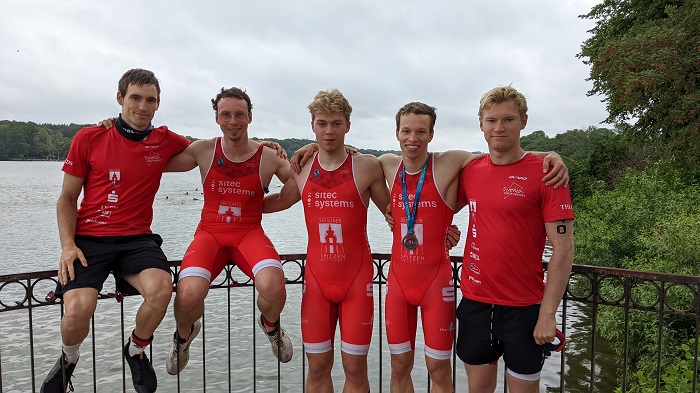 Da die Anzahl der Männerteams in der 2. Bundesliga ab der kommenden Saison reduziert werden soll, heißt es nun bei den verbleibenden drei Rennen richtig anzugreifen, um den Verbleib in der 2. Bundesliga zu sichern.